Zuzanalive.com Reviews
Safety, pricing / cost, and featured are covered in our Zuzanalive reviews.
Zuzanalive might not be an adult webcams site that many of you have heard of as it operates a bit differently than the other sites….but in a GOOD WAY. For many of you those differences might be worth checking out as we've delineated for your below in the reviews.  So let's talk specifics; below are the complete Zuzanalive.com reviews where we have shared what discovered when we researched this live webcam site.
ZUZANALIVE COSTS:
As far as the show prices we do go over that aspect in more detail below, but these general guidelines still apply to the costs of shows at ZuzanaLive.
Signing up is totally free at this adult cam site with full access except for of course their private sex shows.  Basic chat though is completely and totally free and if you want private shows, then you can optionally buy those shows using credits from packages that you can securely purchase. This is a standard model but ZuzannaLive has given you much more than most other package platforms do in the adult webcams space. Specifically, I have to give kudos to ZuzanaLive for giving you REAL full access for free, something few other adult webcam sites offer. Since we have been doing adult webcam reviews for literally years we have some tricks up our sleeves to see if the shows are REAL and if the models can really see and will really reply to a free member.

If they can then they'll reply to messages like we left here.

See the image to the right which proves that this site is offering legitimate free adult cam chat.
As you can see, the username we chose was jackme3 and we got both a verbal reply immediately and a written reply

showing that in fact the model was live and that we had full free access to chat without paying anything

.

Credits packages cost information is detailed below in the images. Once tried the free chat we went straight for a private 1-on-1 cam show in which we found the we got about 1 minute for every $2.50 we spent which, comparatively speaking is very reasonable, when compared to other adult webcams sites.
ZUZANALIVE CAMS FEATURES & REGISTRATION PROCESS:
Let's back up a bit though and talk about the registration and/or sign-up process and what you can expect if you give this site a try. Once you input your email address, choose a user name, and select a password you get a verification email sent to your inbox. We got the email instantly, and verified within 30 seconds so that part was fast and easy. We then went straight to look at the costs of the show. As you can see the payment forms accepted at Credit/Debit card or Money wire.
Afterwards we found the package prices which are shown in the screenshot below.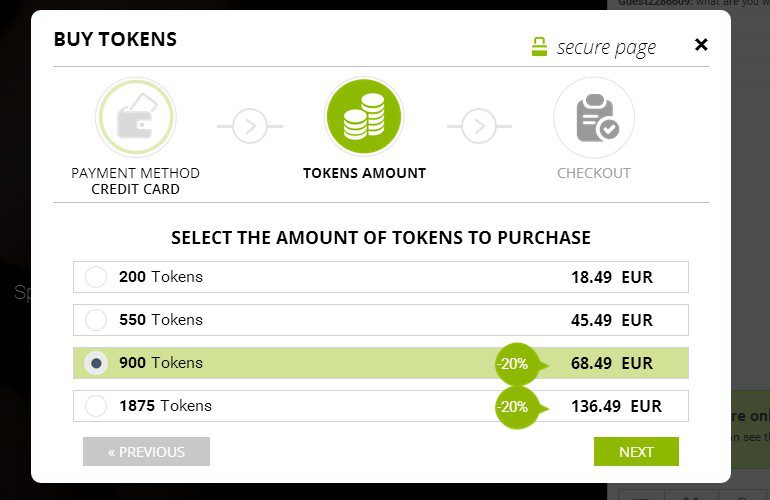 As it the case with most adult webcam sites, the larger the package you go for, the better deals you will find. We opted for the 20% savings with the package that gave us 900 tokens and that came in at $68.49 Euros which is about $80.00 UDS. Afterwards, before we got any shows, we went to complete our profile. Below is a screenshot of what you can expect to see on your profile after you join.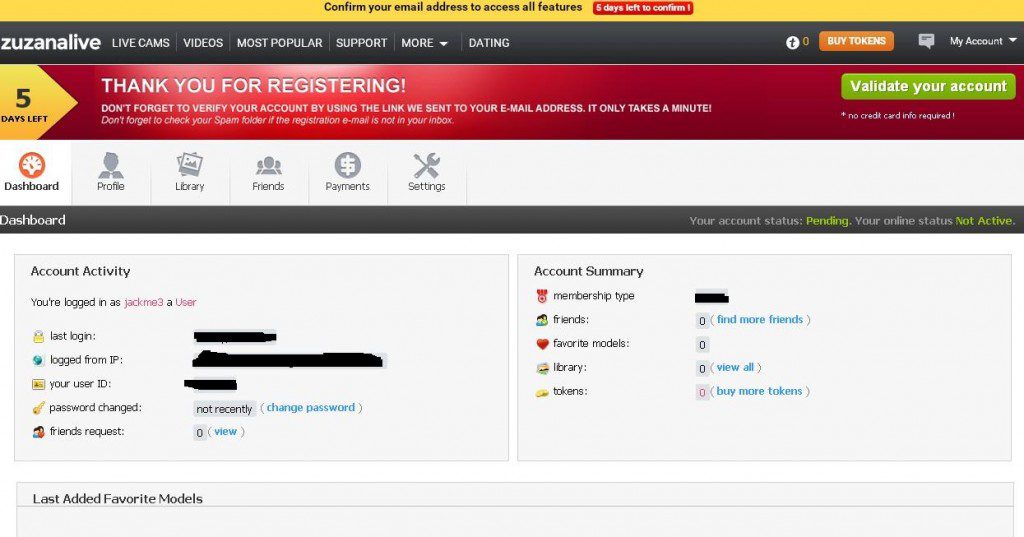 Now that we covered how easy the process was, the costs of shows, and the registration process let's talk specifics about features on offer at this adult webcam site. This is not an all-inclusive list but instead these are the features that we liked the most.
Zooming Ability: When you are knee-deep in a hot live webcam show nothing beats being able to get a closer view of all the sexy angles of the model you choose. This cam site gives you that ability with easy-to-use widescreen and zoom functionality.
Private Messages: Again, a standout element here is the site lets you ACTUALLY CHAT before you pay a dime.

No nonsense in making you pay first.

This means you can chat with full access to all models before you agree to buy any private shows.
Adding Models to Favorite List: Yes, and they way it works is fast and easy making sure you can keep track of your top picks for future shows.
Easy Search: The navigation here is great as well, as you can find models by their appearance as in by features such as hair color or location and languages spoken.
Here is another screenshot showing how well designed the ZuzanaLive adult webcam site is:
As you can see, tipping, going private, sending PM or private messages is conveniently located and color coded just under the live cam models webcam screen. Likewise the top-level navigation gives you a plethora of options as well.
ZUZANALIVE REVIEWS SUMMARY:
Anytime you can find an adult webcam site that does not restrict your access to seeing the models, trying the features, as well as full communication abilities you are well on your way to a great site. Transparency here at ZuzanaLive is a huge plus, couple that with solid pricing, and you a winner. I enjoyed my experience and will be back. Currently they are offering a $4.99 U.S.D. promotion for the first buyer who will purchase a pack of 200 Tokens so right now is also a great time to check this site out. Updated: We recommend you first try Streamate as the selection and long term values are far superior to ZuzannaLive.